DISTRICT ANNOUNCEMENTS

---
---
There will be no school in Meade County today, Wednesday, February 10, due to weather. Today is Snow Learning Day 3.
---
Kindergarten Registration
---
---
Snow Learning Update
On Tuesday, January 19, Snow Learning Packets were sent home with all students P through 12 in the Meade County School District. Please check for this and put the packet in a safe place for future use. Your child will NOT need to do any of the work in the packet UNTIL the school district announces that it is "SNOW LEARNING DAY 1". The earliest date we may use the packet will be Friday, Jan. 22nd but only if there is no school on that day. When the announcement is made on the district One-Call, Meade County School District Facebook page, or the district website, it will clearly state whether or not it is a Snow Learning Day.
The quickest and safest way to receive accurate information regarding school closures or the implementation of Snow Learning Days is by checking our Facebook page, district website and One-Call information.
---
---
Snow Learning
We are proud to announce that the Kentucky Department of Education has approved Meade County's plan for Non-Traditional Instruction during the 2015-16 school year. We will call these days "Snow Learning Days." This plan will allow the opportunity for all Meade County students to be engaged in meaningful learning when conditions prevent schools from being in session. Students will have the opportunity for skill reinforcement, remediation, and enrichment through electronic or conventional paper activities. Assignments will be provided by your child's teacher(s) and are expected to be turned in when school resumes.
When will we use Snow Learning days?
Our first three snow days of the year will be normal snow days. Students will be out of school with no work to make up and we will add these days on to the end of the school calendar. After that, you will know when we are using a Snow Learning Day because we will add that information to our announcement to call off school. The announcement will say, "There will be no school in Meade County today. Students will be expected to complete Snow Learning Day 1." Each school's Snow Learning plan will be tailored to their particular students. In early January, parents will receive a packet with more specific information. The amount of work that each child is expected to do will vary by school and by grade level, but it is certainly not our intention that students would be completing work for the entire duration of the normal school day.
What should parents do to be prepared?
Watch for the Snow Learning packet from your child's school. You will receive a OneCall notification on the day that it is sent home.

Talk with your child about expectations for completion of his/her work on Snow Learning days make any necessary arrangements, such as speaking with your childcare provider to see if they will help complete the work with your student.

Understand that there will be paper and electronic options for student work in case of an outage or for those who do not have access to the Internet from home.
Please use this survey to ask questions or provide input about Snow Learning Days.
---
2015-16 Snow Routes
During the winter there are times when it is determined that some roads are safe to travel, while others are not.
Please see our current Snow Routes to find how your area will be affected.
---
Do you have access to Infinite Campus Parental Portal?
Infinite Campus (our student information system) provides Campus Portal – a "real-time", web-based, secure application that allows parents to use the internet to view their student's attendance, behavior, grades and schedules. With one unique login, you will be able to see information regarding all your children in one location. Once you have your portal account set up online, you can go mobile with the Campus Portal app.
If you don't have a login, call your child's school to get your ID # to create an account today.
---
---
Like us on Facebook to keep up with school closings and other important information!

---
Meade County Schools Survey
Please use this survey to provide Meade County Schools with feedback about our programs. We appreciate any input that you can provide as we continually strive for excellence!
---
WHAS 11 CRUSADE

Click the icon to visit WHAS 11 Crusade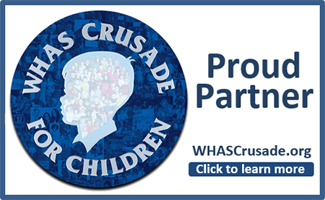 Meade County Schools were awarded $25,000 by WHAS Crusade for the 2015-2016 school year.
The grant will be used for the following:
To purchase a van and physical therapy equipment to be used with special needs students.

If you would like to donate to WHAS11 Crusade For Children,
click the "Make a Donation" link to be redirected to their website.
---